Video: Saving the Crucial Role of Agents and Banks in the Remittance Industry March 21, 2023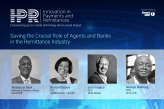 Brought to you by RemitONE, the Innovation in Payments and Remittances (IPR) Global Hybrid event took place on 19-20 October 2022 and included a series of fantastic discussions.
Wallets have been on the rise in recent years which has forced banks to embrace technological advancements to keep up with the pace of digital innovations in the remittance industry. In this panel, we uncover the driving forces behind this change and the possible impact it may have on banks, agents, and the overall money transfer landscape in the coming years.
Moderator:
Ababacar Seck, Managing Director – Africa, RemitONE
Our panellists include:
Why are pay-out transactions shifting to wallets?
There's been an increase in the popularity of pay-out transactions through wallets, due to their accessibility and simplicity. This upward trend is particularly prominent in Asia and Africa. For example, in Ghana, the mobile money market reached $121.8 Billion in 2022 and is expected to grow to $590.7 Billion by 2028. George believes the reason behind this is attributed to factors such as convenience, as wallets are more easily within reach than banks, and overall save time and effort.
Leon also reinforces, wallets are often preferable as they're easy to use which means people don't require additional assistance. Other drivers are, the senders have more options, people have become more digitally savvy and most notably, it's cheaper. Another key benefit of wallets is their increased security due to tokenization, which is a unique identification number attached to any personal information such as account numbers.
However, it's not the same in every region. Sharon shares that in Jamaica there's only one institute that offers mobile wallets, but that could change very soon. The recent launch of CBDC can possibly encourage more institutions to embrace digital wallets.
How can banks and traditional agents cope in the digital era?
Leon states in many cases it's rare for agents or banks to be solely a remittance business. While they may have their core purpose, they should adapt and diversify their services to progress ahead in the competitive market. Sharon suggests that banks can collaborate with more agents to offer their products and services and satisfy client needs, however, there need to be adequate technology capabilities in place for it to be a success.
Data shows that customers prefer the physical contact of agents as they instil trust and provide clear guidance when a problem occurs, as opposed to communicating with a bot. A study even found that 64% of customers commented that they could not solve a problem when using mobile apps to transfer money. Overall, agents play a crucial role in building customer trust and loyalty especially as a large proportion of transactions are still carried out in stores and not through digital means, which proves they still hold a strong position.
There are different considerations for the send and receiving end for agents. The pandemic did accelerate a surge in people adopting digital payments and transactions which resulted in a lesser need for people to visit agents, and it's likely that this will continue. As for the pay-out side, there is potential for agents to educate customers as online accessibility varies in countries where people are still hesitant about online banking and money transfers – this creates a good chance for agents to bridge the gap by acting as the intermediaries between clients and digital payments. Customers already trust these agents, which makes it more probable for them to adopt changes with the agents' help.
Leveraging technology is another technique agents can utilise to enhance efficiency and strengthen their role further. For instance, many people have formed personal relationships with agents but sometimes lack financial literacy. In such cases, agents can take advantage of innovations such as card readers to increase customer security and reinforce the trust clients have in them. This can solidify the bond between the agent and client as well.
MNOs are taking over transactions led by banks, is this healthy? What does this mean for the future of final inclusion?
There is no denying that competition drives innovation and MNOs gaining the lead has pressured banks to also step up their game to progress ahead. MNOs often educate the underbanked on how to use their products, an area where banks are lacking. There's also greater flexibility with MNOs, as people can instantly access their digital funds from the comfort of their homes without the need for documentation and physical visits to the bank, helping them to save precious time.
MNOs particularly boast a good distribution of agents across both send and pay-out. However, their products excel in locations where there is a vast digital presence (although they still have a huge potential to increase penetration of financial services, which will continue to encourage financial inclusion). In locations where there is good digital infrastructure, the need for agents to pay out cash is also lessened, this creates a window of opportunity for them to diversify their products and services. One example is M-pesa in Africa, where digital wallets are the primary method of payment. As a result, customers rarely use physical cash, which suggests that people will only need to visit a branch for a specific need unrelated to money transfers or cash-outs.
The changing face of remittance clients requires a new approach, how can MTOs keep on top of the needs of clients and how will this affect the business model?
In contrast to the past, migrants are more skilled individuals and therefore less reliant on agents, demonstrating increased digital literacy. As a result, the power balance has shifted to the customers, with the internet providing easy access for them to quickly switch to other companies if they are unsatisfied with the service.
Clients also tend to focus more on convenience, such as banking being available everywhere at any time and more demand for receiving immediate results. This places a heavy burden on banks – they often have to increase their costs to expand their workforce and enhance their operations more robustly. However, with the increasing popularity of social media, email, live chat and phone, it becomes challenging for the banks to meet the demand – this can lead to dissatisfaction, complaints and negative reviews, overall damaging the brand's reputation.
To minimise this problem, Sharon proposes a collaborative relationship between banks and agents, to exchange knowledge and expertise and gain a thorough understanding of the client's needs. Leon explains that companies need to rethink their strategies to maintain a close connection with clients whilst keeping pace with their changing needs. However, a positive takeaway is that customers are benefiting from having their needs finally met and the industry continues to thrive.
Can technology help agents preserve their role?
Whilst technology can be costly, it can be a useful tool to streamline operations more effectively. One way is gathering accurate data in a more interactive way instead of relying on traditional surveys. Social media platforms like Twitter polls can help analyse consumer behaviour, identifying factors which motivate them to pick specific agents over others.
As the rapid surge of digitalisation continues, more businesses are having to adapt. At RemitONE, we play a pivotal role in helping banks shift to the online realm. Our software empowers agents to provide customers with user-friendly portals whilst providing an array of options for them to choose from, such as airtime top-ups, prepaid card services and more. By utilising our industry-leading software, you can increase your transaction rates whilst maintaining top-notch security through our AML and KYC checks. This results in a seamless process from send to pay-out. You can also gain access to our global network of clients and partners that we have built over decades for you to access right away, saving you time, cost and headache.
Interested in powering up your business? Get in touch with our experts to provide your customers with a secure, convenient, and exceptional money-transfer experience.
Tap into our experts and schedule a free consultation.
References
https://www.imarcgroup.com/ghana-mobile-money-market
https://www.westernunion.com/blog/en/leery-of-how-digital-wallets-work-let-us-break-it-down-for-you/
https://thefinancialbrand.com/news/digital-banking/mobile-banking-trends/what-consumers-actually-want-from-their-banks-mobile-app-120754/