Trust Payments Partners With Innovation in Payments and Remittances (IPR) August 24, 2023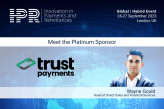 We're thrilled to announce that Trust Payments, a leading global payments company, will be a Platinum Sponsor for the upcoming Innovation in Payments and Remittances (IPR) Global 2023 event. Explore the exclusive article below directly from Trust Payments, where they explain how to take your remittance business to new heights and unlock its full potential.
Unlocking Potential: How Collaborating With a PSD Agent Boosts Your Remittance Business
Remittance, the transfer of funds by foreign workers to their home countries, plays a critical role in the global economy. The World Bank reported that in 2022 alone, the money remittance business grew by an estimated 5% to $626 billion, making it a bigger financial inflow than foreign direct investment.
And as the world turns increasingly digital, the online money remittance sector is anticipated to grow exponentially, thus reflecting the significant role it plays in global economies. However, operating a successful money remittance business comes with its fair share of challenges, including regulatory compliance, transaction costs, and building customer trust.
In this article, we will explore how collaborating with a PSD (Payment Services Directive) agent can significantly enhance your remittance business and how to leverage their expertise and expand your business reach.
Key challenges of remittance businesses
Despite its global importance, the remittance business grapples with several challenges. Regulatory compliance is at the forefront, as companies must adhere to a complex web of local and international regulations. These laws aim to combat illicit activities like money laundering, but complying with them can be costly and time-consuming.

Furthermore, high transaction costs, driven by fees for currency conversion, transfer processing, and other service charges, can deter potential users. Lastly, gaining customer trust is critical. The international remittance business involves moving people's hard-earned money across borders, a process fraught with risk and anxiety for customers. Maintaining transactional security while offering a smooth user experience is thus vital to business remittance services.
What is a PSD agent?
The Payment Services Directive (PSD) is a European Union regulation that oversees payment services in the internal market. A PSD agent, authorised by the Financial Conduct Authority (FCA), is a business that provides financial services on behalf of another company under the PSD legal framework.
PSD agents are under the authority of a licensed e-money or payment institution that is fully responsible for their actions.
Joining Forces for Collaboration & Business Growth
For remittance companies, collaborating with an FCA PSD agent can be a game-changer, providing distinct advantages. PSD agents are skilled navigators of the complex legal requirements, licenses, and anti-money laundering regulations. Their understanding of compliance minimises regulatory risks, freeing remittance companies to focus on their core operations.
Moreover, PSDs can help mitigate fraud and ensure transactional security. They employ sophisticated technologies and algorithms to detect unusual patterns and thwart potential fraudulent activities. Their expertise in this realm significantly bolsters the credibility of the remittance business, winning customer trust.
Here are three additional benefits businesses can gain from partnering with a PSD agent:
1. Increased technological capabilities
PSD agents bring to the table robust technological solutions. They provide secure, reliable payment platforms that integrate seamlessly with existing systems, utilising APIs for flexibility and interoperability.
In addition, they offer data analytics capabilities, supplying crucial insights into customer behaviour and market trends. This valuable information can inform strategic decisions, supporting the growth and competitiveness of the remittance business.
2. Streamlined transaction monitoring, reporting, and customer support
Collaborating with a PSD agent brings efficiencies in transaction monitoring and reporting. They possess refined mechanisms for tracking and documenting transactions, ensuring all activities are compliant and traceable. Additionally, they offer comprehensive customer support services, enhancing the customer experience and fostering loyalty.
PSD agents have sophisticated systems for tracking transactions and generating comprehensive reports that comply with regulatory standards.
They document every transaction in detail, ensuring traceability, and present this data in user-friendly, accessible formats. This organised, precise reporting enables remittance businesses to have clear oversight of their operations, which in turn helps them identify patterns, track growth, monitor compliance, and make data-driven decisions.
3. A broader network
A partnership with a PSD agent can significantly expand the reach and network of your remittance business. With their international affiliations, PSD agents can help extend your services to new markets, augmenting your customer base. This geographical expansion boosts revenue potential and reinforces your standing in the global remittance arena.
How to Get Started with a PSD Agent
Collaborating with a PSD agent can significantly boost your remittance business by addressing the challenges faced in the industry, such as regulatory compliance, transaction costs, and customer trust.
By leveraging a PSD agent's expertise, technological capabilities, and network, you can navigate complex legal requirements, mitigate fraud, streamline operations, and expand your business reach.
At Trust Payments, we have over 20 years of experience supporting financial services institutions with fast settlements and high approval rates. Our overnight settlement service makes remittances faster. We offer instant pay-in and pay-out functionality and a seamless payment experience for your customers.
If you're ready to take your remittance business to new heights and unlock its full potential, we encourage you to contact our expert team today!