Video | Finding the Right Licence for Your Money Service Business July 27, 2023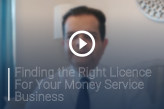 In the second instalment of our informative "How to Start Series," Ibrahim takes a deep dive into the crucial topic of licences and their significance when establishing your very own money transfer business. Understanding the different types of licences available is vital to ensuring a smooth and legally compliant operation in this industry.
In this video, Ibrahim explains the various licences applicable to money transfer businesses, shedding light on their distinct features and requirements. Obtaining the suitable licence is significant, as it legitimises your venture, safeguards your customers, and builds trust within the market.
Ready to dive deeper into launching your own MSB?
Contact our expert consulting team at RemitONE today and organise a free 30-minute consultation. Let us guide you towards success and help you get your money service business up and running as fast as possible. Schedule a free consultation with our experts: