IPR Training: World Of Payments Key Takeaways July 26, 2023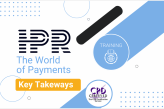 Last month, we successfully launched our first IPR training session, led by our esteemed payments expert, Ibrahim Muhammed. With a remarkable track record of over 20 years in the industry, Ibrahim brought unparalleled expertise and insights to the program.
Designed specifically to enhance participants' knowledge and skillset in the money transfer industry, our series of trainings aim to educate and propel individuals forward in their professional journey.
Our first training kicked off with World of Payments, an introduction to the fundamentals of the key concepts and dynamics of the remittance industry. If you couldn't attend the live sessions, don't worry as you can still sign up at a reduced rate and access the on-demand session.
It's a great opportunity to enhance your expertise, earn CPD points, and secure a certification. You can register online here: https://payments2023.ipr-events.com/register
Now let's dive right in and explore some of the key takeaways from the 2-day online sessions.
The Surging Importance of Remittances for Economic Growth
The impact of remittances on economic growth in developing nations cannot be understated. In 2022, countries received transfers worth over $700 billion from diasporas working abroad. These funds serve as a critical source of income for families, bolstering their purchasing power, healthcare access, and educational opportunities.
Interestingly, remittances have surpassed other categories, including foreign direct investments, in their contribution to economic growth. This substantial inflow has prompted global jurisdictions to impose stricter sanctions, emphasizing the need for formal remittance channels that promote transparency and traceability of funds.
Understanding the Remittance Ecosystem Players
A crucial aspect of achieving success in the payments industry is understanding the diverse roles of participants within the remittance ecosystem. From financial institutions to technology providers, regulators to consumers, each stakeholder plays a vital role in facilitating the seamless transfer of funds across borders. By comprehending the complexities of this ecosystem, MSBs can identify potential partnerships and collaborations that align with their business goals, fostering growth and expansion.
Forming Effective Partnerships with Aligned Goals
Collaborating with the right organisations can unlock new opportunities, expand your customer base, and enhance service offerings. By joining forces with compatible organisations, you can benefit from each other's strengths and drive mutual growth. Actively building and nurturing these partnerships can help enable long-term success.
Rise of Prepaid Cards and Wallets
Ibrahim shed light on the growing prominence of prepaid cards and digital wallets as convenient and sustainable payment options. With their ease of use, accessibility, and flexibility, these solutions offer a viable alternative to traditional banking systems. MSBs can leverage prepaid cards and wallets to tap into new customer segments, enhance financial inclusion, and provide seamless cross-border transactions.
IPR Training Sessions – Offering CPD Points and Certification
We have more exciting upcoming events you can sign up for. Discover the full schedule of events and reserve your spot now at: https://www.ipr-events.com/.  
Remember, tickets are limited and allocated on a first-come, first-served basis. To ensure your participation please secure your seats early.
Don't miss out on these exclusive opportunities to expand your knowledge, connect with industry experts, and stay at the forefront of cutting-edge developments.
We look forward to seeing you in our IPR training sessions!