Clear Junction Partners With Innovation in Payments and Remittances (IPR) July 25, 2023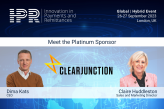 We're thrilled to announce that Clear Junction, a leading global payments company, will be a Platinum Sponsor for the upcoming Innovation in Payments and Remittances (IPR) Global 2023 event. Explore the exclusive article below directly from Clear Junction, where they delve into their company mission, key values and the importance of partnering with brands like IPR.
Clear Junction is excited to be sponsoring IPR Global 2023. As a leading global payments company founded by a veteran team of financial professionals, we have worked tirelessly to build and develop our proprietary technology to facilitate an end-to-end regulated payments solution.
Innovation in Payments and Remittances (IPR) unites and inspires leaders with a strong drive to revolutionise the money transfer sector, bringing together industry stakeholders, visionaries, and business leaders to drive positive change in the industry. At Clear Junction, we help Financial Institutions gain access to a wide range of features such as accounts, virtual IBANs, payment networks, FX, and e-Wallets in a swift, secure, and compliant manner. Our sponsorship underscores their commitment to promoting interdisciplinary approaches and advancing knowledge exchange.
By partnering with us, our clients overcome the complexities associated with establishing banking relationships for international payments. They can tap into new markets and emerging technologies while streamlining their accounts and payment processes. This, in turn, simplifies the management and servicing of their customers, making managing and servicing their customers easy and convenient. Through an advanced infrastructure, Clear Junction enables swift and reliable movement of funds across borders, empowering businesses to expand their reach and cater to a global customer base.
Compliance and risk management are at the heart of everything we do
The last few years have demonstrated the importance of being steadfast and secure in your compliance, and at Clear Junction, it is woven into our strategy. We recognise that maintaining regulatory compliance is crucial for fostering trust, ensuring security, and mitigating risks throughout the financial ecosystem. Following regulations can pave the way for digital currency companies to tap into traditional banking services, which is crucial for growth and innovation.
In response to the recent regulatory pressures, we launched our escrow account solution to ensure protection for those wishing to trade in digital currencies and fiat. As far as it's known, the new escrow accounts solution is the first of its kind in the payment space: Clear Junction acts as a settlement agent and provides a fundamental financial service that ensures each entity involved in a fiat/crypto transaction gets what they agreed to. Relying solely on the transaction data available publicly on the blockchain, all parties get exactly what they expect. Clear Junction acts as an independent entity providing the escrow accounts to guarantee peace of mind for both participants.
The future is through collaboration
The widespread adoption of technology within the financial industry, and the heavy streams of data being poured through financial institutions daily, have meant that compliance regulations have become increasingly complex and intricate. Maintaining compliance with regulatory standards is central to how we function as a payments company and underlines everything we do.
By facilitating collaborations between professionals from various fields, this event promotes interdisciplinary research that has the potential to address these complex challenges. The future is built by everyone, and we are delighted to be part of such a diverse network of industry professionals, policymakers and researchers. We are excited to see what ideas this event will bring.
We are beginning a new age in the digital payments space, and it's an exciting place to be. We collectively have an opportunity to help write the next chapter. It is a long road to map out ahead, but we need to look for sustainable, long-term practices. This sponsorship serves as a testament to Clear Junction's dedication to supporting initiatives that foster innovation, drive positive change, and contribute to the advancement of knowledge across industries.
To learn more about the new partnership with Clear Junction, get in touch at marketing@remitone.com
Secure your tickets to IPR Global, the 2-day hybrid event taking place in London, UK.