Video | Unlocking Success: Launching Your Money Service Business with Purpose June 28, 2023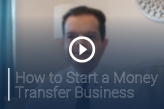 Discover the key steps to launching a thriving Money Service Business (MSB) in our latest video. Join Ibrahim Muhammad, a senior consultant with over 20 years of experience in Money Transfers, as he delves into the "why, how, and what" of starting an MSB.
Gain insights into defining the purpose of your business, addressing the requirements for success, and specifying your unique offerings. This video provides a comprehensive roadmap to help you navigate the challenges and opportunities in the MSB industry. Don't miss out – watch the video now!
Ready to dive deeper into launching your own MSB?
Contact our expert consulting team at RemitONE today and organise a free 30-minute consultation. Let us guide you towards success and help you get your money service business up and running as fast as possible. Schedule a free consultation with our experts: