RemitONE integrates with Worldpay from FIS December 13, 2022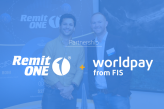 RemitONE, the leading global technology and business services firm for the remittance world, is delighted to announce its partnership with Worldpay from FIS, the world's largest payments company.
Worldpay, Europe's largest payment processor, is fully embedded into the RemitONE Money Transfer Platform and offers the following services:
Credit/Debit card transactions – Visa, MasterCard, Amex with next-day settlement!
300 Global payment methods – Apple/Google Pay, PayPal, Klarna, Sofort and Giropay.
Open Banking – Secure, fast and low-cost Bank Transfer
Fraud solutions – Reduce fraud and increase authorisation rates
3DS tools – Reduce friction and increase authorisation rates
Disbursements – Fast Pay-in/Pay-out plus Visa Direct and MasterCard Send
Worldpay can reduce RemitONE's clients' payment charges thanks to the new partnership and increase turnover through their frictionless solution – all embedded in the RemitONE Money Transfer Platform!
Take advantage of the RemitONE and Worldpay partnership by contacting marketing@remitone.com
About RemitONE
RemitONE is the leading provider of money transfer software solutions for banks, telcos, and money transfer operators (MTOs) worldwide. Organisations of all sizes use the RemitONE platform to run their remittance operations with ease and efficiency by reaching out to their customers via multiple channels including agent, online and mobile.
About Worldpay
Worldpay payment processing solutions allow businesses to take, make and manage payments seamlessly. Worldpay solutions, which support more than 300 payment types in 126 currencies, are offered by FIS, a leading provider of technology solutions for merchants, banks, and capital markets firms globally. FIS is a Fortune 500® company and is a member of Standard & Poor's 500® Index. To learn more, visit https://www.fisglobal.com/en/merchant-solutions-worldpay. Follow Worldpay on Facebook, LinkedIn and Twitter (@Worldpay_Global).
For more information on RemitONE, please email marketing@remitone.com