Video: Partnerships and Interoperability in the Payments Ecosystem January 18, 2023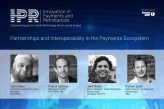 Brought to you by RemitONE, the Innovation in Payments and Remittances (IPR) Global Hybrid event took place on 19-20 October 2022 and included a series of fantastic discussions.
The 90-minute panel session centred around how businesses can utilise their strengths and work with partners to facilitate maintaining a winning business model.
The panel included experts from RemitONE and friends and partners in other global companies. In case you missed the discussion, here's a summary of our key takeaways from the industry experts.
Webinar moderator:
Saiful Alom, Technical Customer Success Manager, RemitONE
Panellists:
Patrick Gutmann, Managing Director, MFS Africa UK
Richard Spink, Sales Director – Channel and Partnerships, GBG
Jake Melito, Head of Growth – Global Enterprise Partnerships, Worldpay from FIS
Key Takeaways from the Panel:
Integration is Key
During the panel session, our experts explored the ins and outs of partnership in the payments and remittance industry and all arrived at the same conclusion: the ability to integrate partners is becoming a critical skill. As an industry, an essential common goal is to reduce costs for customers and provide fair remittances or P2P payments for those who are critically dependent on the service. To do this, it's important to contribute to the ecosystem and network of companies that all provide different key services. Ensuring your business model allows for integration is the first step in working together.
The Fundamentals of Partnering in the Remittance Industry
The key message conveyed by our expert panellists during the discussion was that partnering is essential for any size of business, as it allows companies to start up or scale up quicker and easier. By focusing on what your business does well, you can find the gaps in your offering and reach out to partners who have knowledge in other areas, thus going to market effectively together. Typically, traditional banks and MSBs (Money Service Businesses) wanted to do everything themselves, which can be costly and time-consuming. We're seeing more and more niche players who have a narrow scope in what they offer. For example, partners who can bring you into new corridors, or larger Fintechs who already have partnerships in place. As a result, nowadays companies can simply integrate with other APIs and join together with other businesses.
Partnerships Post-Pandemic
It's no secret that a key outcome of the Covid-19 pandemic has been the digitalisation of many money transfer services. Our panellists explain that the pandemic created more conversations around digital money transfer services and allowed the industry to reduce hesitancy towards digitalising. They also explain that this resulted in more willingness to shift towards a digital business model by default. For example, we have seen huge adoption of mobile money in both emerging and global markets. Our panel also mentioned that they have seen positive moves from a regulatory perspective, making it easier for companies to become digital.
Questions for Potential Partners
During the discussion, our experts explained that before jumping into any partnership you should be fully aware of the partners' offerings and the amount of support they can provide. They explained that it's essential for you to know what problems your company is facing and what requirements you need from partners in order to solve these issues. Here we provide some key questions to consider asking your potential partners before committing:
What level of support can you provide?
Where do you have licenses?
Where do you have strong relationships?
Can you provide insight into local banking networks?
Where do you have domestic banking relationships?
For more information or to request a free consultation with one of our money transfer specialists, please email marketing@remitone.com
What next?
Now that you've caught up on the panel discussion, we want to help you get the most out of it and plan for 2023.
Tap into our experts and schedule a free consultation.