Open Banking with Worldpay and RemitONE March 14, 2023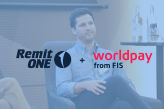 RemitONE, the global leader in technology and business services for the remittance industry, is pleased to announce that its clients can now use Open Banking services through its payments partner, Worldpay from FIS.
By accepting payments via Open Banking from customers, RemitONE clients can benefit from:
Reduced cost compared to accepting cards
Funds are instantly available to you
No chargeback liability
Instant refunds
Highly secure – Uses strong customer authentication
User experience is streamlined on mobile in the UK – uses customer's banking app if installed
Covers 96% of UK banks
No PCI impact
Simple integration
Worldpay can reduce payment charges and increase turnover through their frictionless solution – all embedded in the RemitONE Money Transfer Platform!
For more information on how to utilise Worldpay's Open Banking capabilities through the RemitONE Money Transfer Engine, please email marketing@remitone.com
About RemitONE
RemitONE is the leading provider of end-to-end money transfer solutions for financial institutions, money transfer operators (MTOs) and fintech start-ups worldwide. Our award-winning money transfer software and compliance products, combined with our expert consulting services, offer a tailored solution to meet the needs of the global money transfer market. Our platforms are trusted by businesses of all sizes, providing efficient and effortless remittance operations through multiple channels including agent, online, and mobile. If you would like more information about our services, please contact us at marketing@remitone.com.
About Worldpay
Worldpay payment processing solutions allow businesses to take, make and manage payments seamlessly. Worldpay solutions, which support more than 300 payment types in 126 currencies, are offered by FIS, a leading provider of technology solutions for merchants, banks, and capital markets firms globally. FIS is a Fortune 500® company and is a member of Standard & Poor's 500® Index. To learn more, visit https://www.fisglobal.com/en/merchant-solutions-worldpay. Follow Worldpay on Facebook, LinkedIn and Twitter (@Worldpay_Global).