Meet Aarif Khan: IT Genius March 14, 2023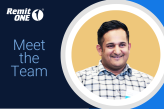 Company Role
Lead System Administrator
Favourite Quote
"A big misconception is that a black hole is made of matter that has just been compacted to a very small size. That's not true. A black hole is made from warped space and time." – Kip Thorne
Top 3 Films/Books?
Martial Peak
Apotheosis
Legends of the Swordsman Scholar
What is something people in your industry have to deal with that you want to fix?
Something people in our industry have to deal with is total automation.
What do you do at RemitONE?
My role involves looking after all the RemitONE infrastructure to keep everything up and running!
What are your credentials/experience for working in your position?
I graduated with an Information Technology degree before also gaining my Masters degree in Network and Computer Systems Security. I've been working in the industry for over 10 years as a Systems Administrator, as well as continuing with self-learning and professional development.
What do you like about working at RemitONE?
I really like and appreciate the positive attitude everyone in the RemitONE team has. It's great to work with people who have such a positive outlook!
What are the values that drive you?
The values that I find most important are being kind and making sure everyone around you is always smiling.
What's your background and what do you enjoy doing when you're not working?
When I'm not working I really enjoy reading Manga and Manhua. I also love to explore when I can, and find out more about different countries across the world.