Unlock the Potential of Loyalty Points: Exploring the Opportunities for your Money Service Business February 21, 2023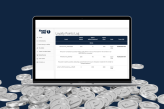 What are loyalty points?
Loyalty points are a type of incentive used by various businesses as a way to encourage repeat customers. Customers are rewarded with points alongside every transaction they make, either online or in-store and can then use the points to gain rewards – these can be anything from discounts to free gifts.
What are the key benefits of loyalty points?
Encourage Repeat Custom
The most apparent benefit of loyalty point programs is the opportunity it brings for encouraging customers to continue making transactions. With each transaction made, loyalty points are accrued, and the customer is more likely to make another transaction to redeem their points or continue building them up.
Cost-Effective Marketing
Compared to traditional marketing methods, loyalty points programs can often be a cost-effective way to attract new customers and retain existing ones. Rather than becoming a costly marketing campaign, or requiring time and resources, many loyalty points programs can simply be switched on and off in the background or can be personalised based on a range of criteria.
The key to a successful loyalty point program is that is must happen seamlessly and intrinsically in the background.

https://br-dge.to/blogs/digital-loyalty-schemes
Customer Loyalty
By rewarding customers for their loyalty, you are likely to experience increased customer retention. Instead of shopping around for better rates, customers often prefer to continue building up their loyalty points so they can receive discounts. In addition, many businesses see customers making more purchases than usual when enrolled in a loyalty points scheme – this continues to build their brand loyalty and increase sales.
Customer Satisfaction
Through loyalty point programs, companies are essentially rewarding customers for their brand loyalty and increased number of transactions. These rewards are responsible for making customers feel valued and appreciated. The discounts they can achieve as a result of the loyalty points will then encourage them to become repeat customers.
In fact, studies have shown that 84% of consumers are more likely to support a brand that offers a loyalty program.

https://www.invespcro.com/blog/customer-loyalty-programs/
How RemitONE Customers are Using Loyalty Points
We are pleased to announce that the RemitONE Money Transfer Engine has recently been enhanced to offer support for loyalty points programs. This new feature empowers our clients to create and manage various criteria and promotional campaigns throughout the year, allowing their customers to earn loyalty points with each transaction processed by our platform.
Setting Criteria
The loyalty point functionality allows agents to set multiple criteria to run a range of promotions at the same time. For example, we've seen RemitONE clients setting criteria based on country, corridor, amount of transactions and more!
Personalised Rewards
Whether you're running a short promotion with a variety of rewards, or you prefer to let your customers accrue smaller rewards all year round, the RemitONE loyalty points feature is highly customisable and flexible. You're in control of how many points can be built up, and how much discount they can be redeemed for. This flexibility has allowed our clients to create tailored reward programs for their users and keep up with industry trends.
What next?
If you're looking for new money transfer technology, or you're currently using the RemitONE Money Transfer Engine, get in touch with our Payments Experts to see how Loyalty Points can benefit your business.
Schedule a free consultation with our experts: