Video: Mobile Money and the Utilisation of Super Apps February 21, 2023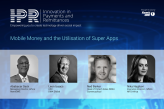 Brought to you by RemitONE, the Innovation in Payments and Remittances (IPR) Global Hybrid event took place on 19-20 October 2022 and included a series of fantastic discussions.
The 90-minute panel session centred around the latest developments surrounding mobile money and how Super Apps can be implemented into your money service business.
The panel included experts from RemitONE and friends and partners in other global companies. In case you missed the discussion, here's a summary of our key takeaways from the industry experts.
Moderator:
Ababacar Seck, Managing Director – Africa, RemitONE
Panellists:
Leon Isaacs, CEO, DMA Global
Ned Barker, Head of Fintech Sales EMEA, Currencycloud
Nika Naghavi, Executive Director – MNOs, MFS Africa
Key Takeaways from the Panel:
There is no doubt that technology has advanced modern society, creating convenient solutions from ordering food to transferring money within seconds. It's also clear that recent years have made the need for apps more apparent, fuelled by digitalisation. As the remittance industry gets more diluted, the need for innovation becomes more prominent in order to generate new income streams. The rise of digital money transfers is expected to reach over USD 60.65 billion by 2030, which begs the question: Is there a need for Super Apps? And what role will they play in mobile transfers? We gathered various experts to dive deeper into this topic.
What Is a Super App?
Ned (Currencycloud) defines a super app being a single application which integrates multiple consumable services in one user interface. To put it more simply, it's like having all your mobile apps condensed into a single app, where you can perform different functions without having to navigate through multiple applications.
There are 3 key essential elements which should be included in a super app:
A wallet or payment option
Ability to connect to social media
A communication method
WeChat is one example of a super app in China. It originally began as a messaging platform, similar to WhatsApp, but has since evolved to become an all-in-one platform to order groceries, book a taxi, socialise with friends and even arrange a doctor's appointment. With billions of users relying on the app for their daily needs, it's clear it's been well-received by the public.
Asia's super apps have also caught the eye of tech giants like Mark Zuckerburg of Meta and Twitter's new CEO, Elon Musk, who've expressed interest to develop their own platforms to imitate China's super apps. There's uncertainty whether people in the west would react as positively as they tend to be more sceptical of their personal data being shared, despite this we're witnessing the widespread use of super apps in various markets and have seen it begin to enter the remittance industry, to improve convenience and efficiency for customers.
Is There a Need To Develop a Digital Wallet?
When it comes to developing a digital wallet, one must first understand if there is actual customer demand. For instance, when creating a universal wallet it can be convenient to onboard your global customers at once, however, it may also require twice as much time and effort. In certain regions, there may be less demand for it, but by having a targeted approach, you can deliver the right features and tools your audience needs and are more likely to receive a positive return on investment.
Below are some key points to consider before developing a wallet:
How to Monetise a Wallet – What is its unique element to sell to customers to gain revenue?
To be Compliant – Must be first accepted by regional jurisdictions.
Create Partnerships – To expand to markets, you need to partner up with organisations like banks, MTOs and payment security partners.
What Obstacles Do Money Transfer Operators or Banks Have to Overcome to Catch Up with Mobile Operators?
Banks and MTOs have been the traditional ways to transfer money, however, mobile network operators (MNOs) are rapidly gaining momentum with their user-friendly and convenient services. This leaves banks and MTOs sometimes struggling to catch up. But there are a few ways they can overcome the challenge, for example, strengthening their core digital strategy, closing the gap for the underbanked and reducing friction between fund transfers. Rather than competing with one another, Nika (MFS Africa) suggests they should be more cooperative, as each of them provides a unique value and play a complementary role within the Ecosystem.
The panel also discussed some challenges MNOs face. Nika and Leon (DMA Global) shared their case study findings where MNOs were not transparent with their foreign exchange rates to consumers and staff failed to have adequate knowledge about the product they were selling, which resulted in poor customer experience. To remedy this, MNOs should focus on being more transparent and provide better training to staff so they are able to educate customers on how to use their services.
Future advancements in the remittance industry
Although a better understanding of compliance, regulations and markets by companies will sprout new innovations, a lack of financial literacy among people can also slow down the adoption of these services. In fact in America, up to 15% of individuals have stated financial illiteracy cost them up to $10,000. Our panellists suggest that this can be tackled by teaching financial literacy in schools or setting up training programmes for the older population. This can reap more benefits as people may shift their perspectives and attitudes to be less sceptical about sharing data with financial companies.
In order to expand financial services to everyone, a basic infrastructure must be in place, particularly in locations where people cannot access mobile signals or electricity. Only then can companies attract communities to use their services and advance further. Another basic necessity people are lacking specifically in many African regions is identification – this prevents them from setting up bank accounts. To bridge this gap regulators and innovators can step in to provide solutions to allow broader access to foundational identities.
For more information or to request a free consultation with one of our money transfer specialists, please email marketing@remitone.com
What next?
Now that you've caught up on the panel discussion, we want to help you get the most out of it and plan for 2023.
At RemitONE, we understand that in today's fast-paced society, convenience is key. That's why we're excited to offer our white-label mobile app solution that allows your customers to securely conduct transactions via their smartphone. Our solution offers a personalised mobile experience that allows your customers to easily register, add beneficiaries, and create remittance transactions from anywhere, making it easier for your customers to interact with your brand.
Our white-label mobile app also supports branchless operations, allowing customers to manage their E-wallet top-ups, transactions, and beneficiaries, ultimately leading to reduced operational costs. Additionally, our app integrates seamlessly with our compliance manager, ensuring that your customers can conduct their transactions in a risk-free environment with an extra layer of security.
If you're looking to elevate your business and provide your customers with a secure, convenient, and exceptional mobile remittance experience, we encourage you to get in touch with our experts today to learn more about our white-label mobile app solution.
Tap into our experts and schedule a free consultation.
References
https://www.economist.com/business/2022/12/08/the-rise-of-the-super-app
https://www.businessinsider.com/elon-musk-twitter-super-app-x-2022-10?r=US&IR=T
https://www.insiderintelligence.com/content/meta-transform-whatsapp-super-app
https://www.cnbc.com/2023/01/19/heres-how-much-people-say-lack-of-financial-literacy-cost-in-2022.html