Meet Oussama Kseibati October 25, 2021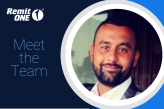 Name
Oussama Kseibati
Company Role
Head of Business Solutions
Favourite Quote
"Never let the fear of striking out keep you from playing the game" – Babe Ruth
Top Podcasts/Books?
Watchmen – Alan Moore, Dave Gibbons
20,000 Leagues Under the Sea – Jules Verne
Do Androids Dream of Electric Sheep – Philip K. Dick
What is something people in your industry have to deal with that you want to fix?
One key problem we often face in the industry is the difficulty individuals and MTOs face with banking when they are deemed high-risk. Often MTOs are abiding by regulations but are still not offered access – situations like these drive payments underground and makes them harder to track. We want to rectify this by offering end-to-end solutions for individuals and MTOs of all sizes and from all regions.
What do you do at RemitONE?
I recently moved into the Head of Business Solutions role, where I'm now responsible for sales growth and strategies across the UK, Europe and Asia alongside our HQ team.
What are your credentials/experience for working in your position?
I've been working in the Payments and Remittance industry for over 10 years, during which I've worked for some of the leading Tech and Remittance companies.
I've held roles at different levels, including FX Trader, Account Manager and Head of Sales – all of which have led me to my new role as Head of Business Solutions.
What do you like about working at RemitONE?
The thing I like most about working for RemitONE, and the remittance industry in general, is the feeling of doing something good for the wider community. RemitONE's mission is to ensure a better flow of wealth around the world, allowing for everyone to support their loved ones – this is something I feel extremely passionate about!
What are the values that drive you?
Honesty, integrity and always giving 100% – a man's work is a reflection of himself.
What's your background and what do you enjoy doing when you're not working?
I really enjoy working on creative things, like building machines, painting and sculpting – a bit of a difference from the day job! I also love to drive/ride anything with an engine as fast as possible. I really enjoy going to movies, travelling and Airsoft.