Meet Ziad Mannan: Expert Engineer September 14, 2021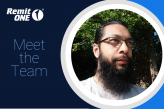 Company Role
Head of Engineering
Favourite Quote
"Stay hungry, stay humble"
Top Podcasts/Books?
The Quran – I find my peace in coming back to this book.
What is something people in your industry have to deal with that you want to fix?
Software development is seen as a battle between techies, management and clients. I want to play a part in making it more of a mission that all 3 sides work together to achieve the desired goals.
What do you do at RemitONE?
I oversee the engineering effort at RemitONE: making sure we have the right people, we have good processes in place for delivering to our clients and we are technically sound. And in all of these things, we are continuously looking for ways to keep improving. That means I have a lot of meetings all day! But every so often I get a chance to tinker with some code.
What are your credentials/ experience, for working in your position?
I've been working in software development for a long time. I got into programming as a kid (without even knowing it!) and was hooked so I studied Computer Science and went into the world of work as a developer. I really enjoyed working as a hands-on developer for several companies, learning my trade and honing my tech skills, but I always had an interest in looking at the bigger picture and how everything fits together. This led me to move into technical management/leadership roles.
What do you like about working at RemitONE?
We have a really close-knit team at RemitONE and working with the team doesn't feel like work, it feels more like we're on a mission together! I really love that.
What are the values that drive you?
There are a lot of values that are important to me but the one that drives me the most is pushing yourself to be the best that you can be and helping and inspiring others to do the same. And when you're doing that with people that you really connect with, then that drives you even more.
What's your background and what do you enjoy doing when you are not working?
Academically and professionally I've always been interested in IT/technology. I was born and spent my early childhood in Bangladesh before moving to the UK, so that gave me quite a varied life experience early in my life and I feel that has served me well in being able to work with different people in different situations.
I love spending time with my kids, I have a lot of them! That takes up a lot of my time outside work. I also like to keep fit so I go for runs and work out when I can.