RemitONE Wins Prestigious RemTech Industry Choice Award 2018 June 20, 2018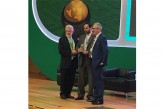 On 8 – 10 May 2018, Bank Negara Malaysia, in collaboration with United Nations' International Fund for Agricultural Development and The World Bank Group, hosted over 400 participants from the public and private sectors at the Global Forum on Remittances, Investment and Development (GFRID) 2018. This event was held at the Sasana Kijang in the great vibrant city of Kuala Lumpur to discuss the latest developments in the remittance marketplace and policies by international and national bodies to lower transaction costs for the migrants.
The event also showcased the RemTech Awards which are awarded to highlight innovative technology services and creative technological ideas that positively impact speed, efficiency, security and costs in the remittance cycle from origin to destination.
The competition was tough, with over 40 remittance innovators from all over the world including international organisations, regulators, private sector businesses and civil societies with interest in Asia Pacific remittances. All the registered participants at GFRID 2018 were invited to vote in the first ever industry vote. After all the votes were casted, RemitONE was announced as one of the winners.
Mr Aamer Abedi, Chief Marketing Officer at RemitONE, received the Industry Choice Award on stage from Ms Olivia Chow, Founder & CEO of Yokip Consulting who stated that the RemTech judges said "RemitONE's solution shows that they understand the problem that needs to be addressed and have built a solution to it, rather than many others which have a solution but are not addressing a real-world problem. It is particularly noteworthy because their solution helps not just MTOs but regulators as well and could make a major difference to the problem of derisking."
Upon receiving the award, Aamer said: "On behalf of the entire RemitONE team and our partners, I would like to thank the RemTech judges, IMTC, Bank Negara, IFAD and the GFRID attendees who voted for us. It is a great honour to have won this award. We accept this award and dedicate it to the migrant who works hard all month to earn money so he or she can send it back home to feed the family."
"We are extremely proud to be part of this great industry and we thank the GFRID organisers for providing this platform to all the industry stakeholders to come together and work towards improving the lives of the migrants and their families back home."
Useful Links:
www.remitone.com
www.remtech.org