RemitONE and Tranglo Tie-up February 27, 2019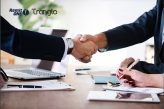 RemitONE has teamed up with Tranglo to enable remittance providers using its platform to access Tranglo's payout network.
Founded in 2007, RemitONE is a UK based international Fintech firm specialising in money transfer solutions.
With the latest partnership, Tranglo's Gloremit will be a standard feature on RemitONE's system. This allows companies utilising RemitONE's platforms to access Tranglo's impressive global network, enabling them to process payouts to and from more countries.
Tranglo Executive Director, Mohammad Gharaybeh said: "In a global market, no firm can work alone. This is why we are proud that RemitONE has chosen to collaborate with us to expand its reach and boost its offerings. Our experience in cross-border payments will ensure that RemitONE clients enjoy seamless out-of-box services."
RemitONE CMO, Aamer Abedi said: "We see great synergy between RemitONE and Tranglo. We are aligned in terms of our focus on using technology to empower people and our vision of serving the money transfer industry. Our services complement each other and our partnership will ensure that we deliver a rich customer experience at all times."
About Tranglo
Tranglo is a global cross-border payment processing hub that supports business payments, mass payout, payment collection, money transfer and mobile top up with offices in Kuala Lumpur, Jakarta, Dubai and London. Our service spans across more than 100 countries, serving over 250 mobile operators, 100 billers, 600 banks/wallets and 90,000 cash pickup outlets. Founded in 2008, Tranglo is a proven partner with a 10-year track record of success. For more info on Tranglo, please visit www.tranglo.com, www.linkedin.com/company/tranglo or www.facebook.com/tranglo
About RemitONE
RemitONE is the leading provider of multi-channel money transfer platforms for banks, telcos and money transfer operators (MTOs) worldwide. Organisations of all sizes use our platforms to run their remittance operations with ease and efficiency by reaching out to their customers via multiple channels including agent, online and mobile. For more information on RemitONE, please visit https://www.remitone.com or https://www.linkedin.com/company/remitone-ltd/