RemitONE Proud Platinum Sponsor of IMTC World 2020 October 27, 2020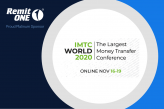 We're thrilled to be sponsoring and participating at IMTC World, 16-19 November 2020. The conference is the largest international money transfer, cross border payments and fintech event globally. This year's online event is packed with sessions featuring the industry's most prominent leaders, executives and pioneers.
RemitONE CMO, Aamer Abedi will be joined by, Nadeem Qureshi, CTO, USI Money; Richard Spink, Senior Business Development Manager, GBG ; Sidharth Gautam, Head of Sales, AZA and David Lambert, Commercial Director, Transact 365 for what promises to be one of the most informative panel discussions: A New Normal: Getting digital ready for post-pandemic recovery.
Participants will learn how to leverage digital technology to achieve business continuity during the pandemic, transform customer experience, ensure compliance and obtain a remittance bank account. Join the discussion in the Tropical Room at 13:00 GMT on Tuesday 17 November to take part.
Anwar H Saleem, CEO of RemitONE shared "We're excited to meet with those looking for an opportunity to add value to their business and look forward to re-connecting with current partners. IMTC World is crafted around critical business discussions led by industry experts. We're proud to participate in this top-tier event."
Visit our Booth #P2 at the IMTC World, online, from 16-19 November 2020.
Join the event here – https://web.cvent.com/event/1e534a43-8f77-4b6f-af97-a69ccc023f4d/
About RemitONE
RemitONE is a technology and business services firm that breathes innovation and excellence into the money transfer world for all types and sizes of organisations including banks, money transfer operators, micro-finance institutions, telecom firms and start-ups. Our technology allows you to manage your entire money transfer business and connect with our extensive client and partner network worldwide. Our consulting services have an impressive success rate for money service business license applications and alternative bank account solutions.
Follow us on Twitter (@RemitONE) and LinkedIn (RemitONE) for the latest industry updates.