RemitONE present at the DIT sponsored Disruption & Innovation in Financial Services, Portugal April 28, 2017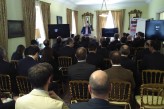 April 28th 2017, London, United Kingdom – Fintech software solutions provider RemitONE presented the UK's view on disruption & innovation in the money transfer market at this prestigious event in Lisbon in late March.
The event was organised by the Department for International Trade and took place at the UK Ambassador's official residence in Lisbon, Portugal.
The Disruption & Innovation in Financial Services event included presentations from several UK Fintech firms considered to be leaders in their field. The audience consisted of senior directors for banks, insurance and other financial services providers in the Portuguese market.
RemitONE's presentation focused on how their innovative technology is providing a mechanism for disruption in remittance, allowing new entrants to provide money transfer services online or on smartphones without the need to build a branch network or an agent network. It also provided an insight into how technology can help existing providers to be more efficient, achieve more through their agent network and to better manage the increasingly challenging compliance regulations.
RemitONE went on to explain how their technology can support expanding the range of services on offer such as E-wallets and utility bill payments as well as support cross-selling and customer reward schemes.
The audience heard that the send and receive remittance market in Portugal is worth an estimated $6bn per annum, generating fees in the region of $60+million for the money transfer operators. The receiving market is still larger of the two but the send market is growing due to a growing immigrant population in Portugal from Brazil, Angola, Mozambique, Cape Verde and Eastern Europe.
"The $680bn money transfer industry plays an important role in allowing migrant workers to directly support loved ones back home" says Anwar H Saleem, RemitONE CEO. "We provide end to end money transfer solutions, from consulting services, through to technology platforms and business growth via our client and partner network.
We are delighted to have been selected for inclusion at this event. It reflects our commitment to offering thought leadership and best practice in an industry that serves lower paid workers and millions of unbanked people around the world. It also reflects our strong capability for European markets."
RemitONE is a leading FinTech & business services firm that breathes innovation and excellence into the remittance world for all types and sizes of organisations including banks, money transfer operators, micro-finance institutions, telecom firms and start-ups. Operating in over 100 countries across every continent, RemitONE is recognised as an established, trusted brand and the leading provider of fully hosted end-to-end multi-agent, multi-channel, multi-currency and multi-region money transfer software solutions, consulting and support services. Through the application of innovative technology, RemitONE helps the industry better serve their customers, better manage their business network relationships and stay compliant with financial regulations.
Useful Links: