Preguntas y respuestas con expertos de la industria: Selim Mohamdi April 7, 2022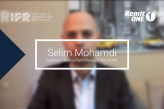 Vea la última serie de preguntas y respuestas con experto de la industria, Selim Mohamdi, Gerente de Desarrollo de Negocios, RemitONE.​
En nuestra entrevista, Selim explora la relación entre la aceptación de los pagos móviles y lo que esto significa para las transferencias de dinero en efectivo, así como el papel de las criptomonedas y blockchain en el proceso de remesas.​
What next?
Now that you've read our article we want to help you get the most out of it and plan for 2022.
Tap into our experts and schedule a free consultation.