Intelligent Design and the Digital Wallet Evolution March 30, 2022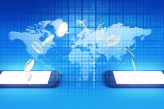 The shift to digital payments and money transfers has been evident for the best part of 10 years. This article looks at the increase in digital wallets over recent years, the benefits of wallet functionality, and the role of digital wallets in the road to financial inclusion.
Features and Functionality
Digital wallets are essential vehicles for storing and making payments online or with your mobile phone. Mobile wallets are instrumental in facilitating instant, contactless payments, online payments and can be topped up from bank accounts or with cash, making them a widely favoured payment vehicle when compared to other traditional methods. In addition, a digital wallet eliminates a range of friction points when compared to its physical counterpart; there's no need to input card details or PIN to make payments. These features also prove vital for users when it comes to money transfers, making wallet-to-wallet transfers faster, safer and cheaper than ever before [1].
Mobile Wallet Popularity
At the end of 2020, over 2.8 billion mobile wallets were in use, with cosmic popularity across Asia, Africa, and the Middle East [2]. Moreover, when it comes to digital money transfers, mobile wallets are now used 50% of the time, surpassing other methods such as PayPal, credit cards and traditional bank transfers [3].
It's clear that mobile wallets have gained enormous popularity worldwide in the payments and e-commerce world, and this trend is only set to continue, with an expected user increase of 74% over the next five years. In particular, in Europe and the Americas, digital payments are being dominated by mobile devices.
The payments industry mobile wallet evolution is driving a significant change in the fintech and money transfer realms.
The Merging of Industries
Mobile wallet payments usage is causing a seismic shift in consumer behaviour, especially in money transfers. Alongside the change towards digital remittances, a vital part of the mobile wallet evolution centres around creating a new marketplace in which these industries – retail, airtime, utility bill payments and remittances – are brought together.
The merging of industries through mobile wallets also brings about further benefits. It makes it possible for these industries to tap into other verticals, creating more opportunities for transactional growth for supply-chain members and offering much more power and choice to the consumers.
As consumer demands continue to grow, the need for industries to unite becomes even more apparent, and with it comes a need for a ubiquitous wallet. We're predicting this trend to snowball in the coming years, expanding the marketplace and thus fulfilling the needs of these industries and making money transfers more seamless and cost-effective.
The wallet will itself serve as a front end or gateway to these industries, literally putting the various services of these industries in the palm of the user/consumer.
Wallets for Financial Inclusion
The growing demand for money transfers and the shift to a digital world that we've been exploring brings us one step closer to financial inclusion.
The features and functionality of wallets offer great potential for breaking into unbanked regions, allowing users to access the financial system without the need for a traditional bank account. In fact, studies have shown that smartphone penetration now outpaces bank accounts [2]. It seems that wallets could be a solution for many users who prefer to remit money or make payments through an alternative to traditional money transfer methods.
While we've seen that 2.8 billion mobile wallets are currently in use worldwide, a staggering 1.7 billion adults remain unbanked despite two-thirds owning a mobile phone. The wallet is a replacement for a bank account for this 1.7 billion. This presents an enormous opportunity to Fintech players to put their wallets – with a range of backend services, including money transfers – in the hands of the unbanked via the mobile phone.
With the growing demand for digital money transfers, the increasing use of mobile devices, and the uniting of verticals, it's clear that the payments and remittance industries are entering a new stage of their evolution. As consumer demands focus on more convenient payment methods, we can cautiously infer that mobile wallets will be critical on the journey to offering fairer transactions and overall financial inclusion.
What next?
Now that you've read our article, we want to help you get the most out of it and plan for 2022.
So tap into our experts and schedule a free consultation.
References
[1] https://imeremit.com.np/blog/cross-border-remittance-and-benefits-of-digital-wallet
[2] https://wp-boku-2020.s3.eu-west-2.amazonaws.com/media/2021/09/18175330/2021-Mobile-Wallets-Report.pdf?utm_campaign=Mobile+Wallets+Report+2021+Download&utm_medium=email&utm_source=autopilot
[3] https://securecdn.pymnts.com/wp-content/uploads/2021/09/PYMNTS-Cross-Border-Remittances-Report-September-2021.pdf