Meet Aisha Waris April 13, 2022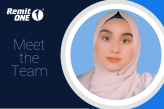 Company Role
Administrative Assistant
Favourite Quote
"Strength and growth come only through continuous effort and struggle" – Napoleon Hill
Top 3 Films/Books?
Don't Be Sad – Aid al-Qarni
A Walk to Remember – Nicholas Sparks
Any horror movie!
What is something people in your industry have to deal with that you want to fix?
In the remittance industry, the one thing that is certain is that there will always be government changes to rules and regulations. Keeping up with legal implications is highly important to ensure any amendments are made accordingly. RemitONE does a super-efficient job when it comes to all the legal stuff! Our sales team is geographically divided which allows the team to hold expertise in regulations around the world.  
What do you do at RemitONE?
My job involves working in between our sales and marketing team – which essentially involves doing various tasks for both sides.
What are your credentials/experience for working in your position?
RemitONE is actually my first 'proper job' as I graduated in the summer of 2021 with my degree in Business Management and Marketing. Before RemitONE I worked in retail as well as being a carer – both allowed me to improve my existing skills as well as develop new ones.  
What do you like about working at RemitONE?
During my interview process, I was told "Every day is a new day". I can say now that the statement is 100% correct and I absolutely love it! It means that I keep motivated with a wide range of tasks every day. I also love the team that I work with, everyone is super supportive and always there to help.
What are the values that drive you?
Resilience, compassion and honesty.
What's your background and what do you enjoy doing when you're not working?
I did my Business Management and Marketing degree at Brunel University.
Aside from working, I love travelling and going on walks! My most recent trip was to Malta as a graduation celebration. I also love cats. Although I don't have any of them anymore, I've included below pictures of all that have been a part of my life.