Meet the Newest Members of RemitONE May 11, 2022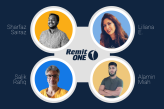 RemitONE is thrilled to welcome our five latest additions across several departments!
Alamin, Aisha, Liliana, Sharfaz and Salik are the latest members to join RemitONE and are already proving to be a great addition to the team.
We caught up with them after their first few weeks at RemitONE to hear more about their role and background.
What do you do at RemitONE?
Alamin:
Role: Junior Application Support Engineer
My responsibilities at RemitONE include supporting clients with any issues and inquiries they have regarding their RemitONE system. This can include back-end code debugging and bug fixing.
Aisha:
Role: Administrative Assistant
My job involves working in between our sales and marketing – which essentially involves doing various different tasks for both sides.
Liliana:
Role: Application Support Engineer
I handle customer modification requests, conduct feature updates, assist with app building, carry out integrations and fix other small issues and bugs.
Sharfaz:
Role: Senior Software Developer
I joined the RemitONE engineering team in March 2022, with 10 years of professional experience in web application development. I am a father and a coder. I have a passion for travel and sightseeing. When I am not off on travels, I enjoy cooking and watching movies.
Salik:
Role: Technical Customer Success Manager
My role involves speaking with our customers at a technical level to integrate and configure RemitOne software into their business and deliver any customisations which are specific to their business helping to sustain their relationship with RemitOne.
What are your credentials/experience for working in your position?
Alamin: I recently graduated with a BSc (Hons) in Computer Science and have experience in the IT industry as a 1st line and 2nd line Technical Support Specialist.
Aisha: I graduated summer of 2021 in Business Management and Marketing. Before RemitONE I worked in retail as well as a carer – both allowed me to improve my existing skills as well as develop new ones.
Liliana: I have over 10 years of customer service and 1st/2nd line IT Support experience within different areas, from financial services (Forex) to the travel industry. I am also multilingual (Portuguese, Spanish and French).
Sharfaz: With a degree in BSc. Computer Science and as a highly experienced developer, with a keen eye for continuous improvement, I focus on the management, security and development of the MTMS systems for clients with complex needs.
Salik: I have over 20 years of experience as a software developer and consultant across a variety of platforms and business sectors developing software and speaking with stakeholders in software, insurance, leasing, retail and other sectors.
For more information or to request a free consultation with one of our money transfer specialists, please email marketing@remitone.com
What next?
Now that you've read our article we want to help you get the most out of it and plan for 2022.
Tap into our experts and schedule a free consultation.