Video: Compliance and AML for Money Transfers – Everything you need to know May 24, 2022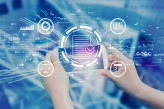 Continuing our recent discussions exploring the evolution of the remittance sector, RemitONE hosted their IPR EMEA event on 2-3 March 2022. The 90-minute panel session centred around compliance and AML for the money transfer industry.
The panel consisted of experts from both RemitONE and our friends and partners in other global companies. In case you missed the discussion, here is a summary of the key insights.
Webinar moderator:
Oussama Kseibati, Associate Sales Director, RemitONE
Panellists:
Richard Spink, Sales Director, GBG
Gabrielle O. Micheals, Senior Compliance Officer, Nairagram
Imad Chishti, Director of Payments & Compliance, Evantagesoft
Ibrahim Muhammad, Payments Consultant, Finxplor Consulting Services
What are the main challenges facing MTOs regarding compliance and regulation?
Gabrielle: Well, it has to be adaptability. We all understand that countries have different guides, let's say in the UK you have FCA and in the US BSA. Sometimes when you have certain partnerships with other MTOs in this jurisdiction, it doesn't keep up because there is that difference. The risk when it comes to businesses is knowing what you want to do. For instance, how can we work to create an effective program and how can we implement this program in a way where it protects us, our service, customers and clients. What I always would put in first is, why do you want to have a risk assessment on your operations. You need to know the first thing that you want to achieve, and that is to detect and prevent your system or your company from money launderers in any way as they always find ways of looking after our abilities, and then using that, to aid our own needs.
What is digital ID? Why is digital ID necessary? How does it impact KYC and AML?
Richard: It's different now from what it will be. In practical terms, digital identity at the moment is an idea which has been delivered in a few countries, but it's not global. We're certainly not at that point where it's making any difference whatsoever to AML and KYC processes. At the moment in terms of the landscape for digital ID, the processes are delivered in slightly different ways in different countries. Digital ID at the moment essentially means confirming proof of ID proof and address.
At GBG we ran a survey on this a year ago, in which we found for most people that means something like presenting a driving license or a passport. In 10 years we can expect the process to be the same but using a mobile phone number, and email address and a biometric and the biometric that was typically used in that process at the moment is a Face.
Particularly looking around AML Compliance, what are we seeing in Pakistan and the Middle East region?
Imad: We are seeing two major aspects that are creating an impact. One is that ever since this pandemic started, there is a drastic change in customer behaviour. From Pakistan's perspective, the regulatory estimates that the formal and informal remittance channels are somewhere between $40 to $60 billion. This huge gap between the two channels is what MTOs, regulators and banks have been trying desperately for the past many years to somehow move informal remittances towards formal channels by offering incentives.
The second thing that we are seeing happening is that with the rise of fintech, banks are being challenged significantly. In our understanding MTOs ability to improvise and innovate is much faster than any conventional traditional bank possibly due to the kind of environment that banks are in. The key difference is that banks are compliance and risk driven. So, they will not act upon anything unless they have full assurance from their compliance and risk that everything is by book. As opposed to MTOs and fintechs' who are very customer-driven.
What is being done to help the clients face literacy in terms of the technological side?
Imad: We feel that changing our customer behaviour goes hand in hand with the motivation, why would customers want to use something new or something different than what they have been using in the past. We have been using different incentives, some incentives are being offered in partnership with the government so there are a lot of lucrative subsidies that the government is providing not just to MTOs but also the customer.
Are E-wallets big in Asia or is that something that's catching on?
Imad: Two things have revolutionized the financial industry. One is the rise of E-wallets. And the second is biometric verification. So now the whole population adult option is biometric verified, and there are roughly 45 million registered mobile accounts in Pakistan right now from a population of 120 million with an adult population of 70 to 80 million. You can see that compared with 15 or 16 million bank customers mobile wallet density is much wider.
How can regulators balance evoking trust for consumers whilst avoiding stiffening innovation in the industry?
Gabrielle: Well, regulators are awakening key innovations in the industry, and also carrying improvements. We can see some cases where a new regulation comes out it gives new ideas and birth to new technological innovation that comes forward. People are beginning to try different things.
Would you say stakeholders like the Central Bank in the remittance industry have also invested heavily into tech as MTOs and Fintechs have?
Gabrielle: I won't say they have all adopted the whole culture of being completely Technological. If banks have I don't think we'll have many issues and it's just a case of plugging your API. I think everybody it's still in the process.
Oussama: I think that's one thing I look forward to in the future, while things become more centralized and people become open to APIs, it would be just easier to connect everyone. And again, pass information through. So rather than you need to report to the authority every month, your system will simply push that information through overnight. It removes that human error or a part of it. Again, they only have access to that part of the system that they need the information on to see velocity checks and things like that. It's a positive thing to at least hear that, particularly in your region they understand that technology is the way to go.
What are the individual different tools within IDV?
Richard: Identity verification Traditionally meant physically, or physically looking at a proof of ID in a proof of address document. Lots of businesses will still do that whole face-to-face verification. COVID has changed that landscape. If you think about IDV it's the process of checking, providing proof of address, and digitising that has delivered two core pieces of technology. Confirming someone lives at their address has traditionally been the quickest way to run this process.
However, it only works if the source of data confirming that someone lives at their address is good, if the data isn't any good there's not much point in trying to use that data. All the new technology is around proving identity by using an identity document but also proven to look at as part of that process
Imad: We are developing some data-driven decision tools for making real-time AML decisions, and we are making some tools for real-time customer profiling aggregation of data. We are interestingly working on face verification, and voice biometrics, this is especially important for countries like Pakistan where the infrastructure is not good, the more you go outside urban areas infrastructure is dependent on telecom services.
For more information or to request a free consultation with one of our money transfer specialists, please email marketing@remitone.com
What next?
Now that you've read our article we want to help you get the most out of it and plan for 2022.
Tap into our experts and schedule a free consultation.