IPR Course: RegTech for Compliance in the Money Transfer Industry November 16, 2022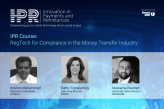 Catch up with the IPR Course from the recent IPR Global event that took place on 19-20 October 2022.
In the course, our compliance experts explained how to navigate the tricky maze of regulations within the payments and remittance industry.
Panellists:
Oussama Kseibati, Associate Sales Director, RemitONE
Ibrahim Muhammad, Payments Consultant, Finxplor
Kathy Tomasofsky, Executive Director, Money Services Business Association (MSBA)
What next?
If you're a Money Service Business looking for RegTech advice, come and talk to the team at RemitONE.
Tap into our experts and schedule a free consultation.