IPR Course: The Ultimate Guide for Start-Ups December 8, 2022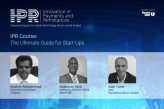 Catch up with the IPR Course from the recent IPR Global event that took place on 19-20 October 2022.
In the course, our panel of experts explore how to get started in the Money Transfer Industry, including navigating license applications, choosing the right software, and making strong connections across the industry.
Panellists:
Ababacar Seck, Managing Director – Africa, RemitONE
Ibrahim Muhammad, Payments Consultant, Finxplor
Adel Taher, CEO, PayOnlime Africa Limited
What next?
If you're a Money Service Business looking for start-up advice, come and talk to the team at RemitONE.
Tap into our experts and schedule a free consultation.