3 Quick Questions with Leon Isaacs December 13, 2021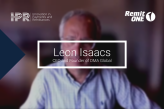 Hear our latest Q&A sessions with Founder and CEO of DMA Global, Leon Isaacs.
Join us as we explore Leon's insights on hot topics in the payments industry, including what we can expect to see from cash, the future of the e-wallet, and how to keep agents relevant in a digital world.
Find out more about the ever-changing payments industry in the 2021 IPR Report.
Get in touch if you'd like to hear more about the trends and predictions for 2022, or to learn how RemitONE can support your Money Transfer Business.
Tap into our experts and schedule a free 30min consultation.