Video: The Growing Money Transfer Industry – Unlocking new revenue streams and seizing opportunities November 14, 2022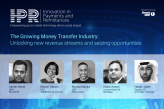 Brought to you by RemitONE, the Innovation in Payments and Remittances (IPR) Global Hybrid event took place on 19-20 October 2022 and included a series of fantastic discussions.
The 90-minute panel session centred around the enormous rate of change we've been seeing in the international money transfer market, and how businesses can capitalise on industry growth.
The panel included experts from RemitONE and friends and partners in other global companies. In case you missed the discussion, here's a summary of our key takeaways from the industry experts.
Webinar moderator:
Aamer Abedi, CMO, RemitONE
Panellists:
Sharon Gibson, CEO, JMMB Money Transfer
Moosa Manjra, CEO, Hello Group
Habib Ansari, Country Head UK, Worldline
Hasan Jaber, Deputy CEO, Al Fardan Exchange
Key Takeaways from the Panel:
The remittance industry remains resilient:
Our experts explored the surprising growth of the remittance and payments industries during and after the Covid-19 lockdowns across the world. Government stimulus packages were offered in many regions, supporting migrants with their remittances which resulted in them being able to send additional funds to their loved ones. Despite the challenges brought about by the pandemic, our experts were firm in their belief that the sheer resilience of migrants across the world has contributed to industry growth.
Covid-19 has expedited the industry's digital transformation:
The closure of in-person remittance branches, the stigma surrounding the hygiene of using cash, and the rules surrounding travel during the pandemic are just some of the reasons why many remittance players sped up their shift to a digital business model during 2020 and 2021. Despite this enormous adoption of digital technology, our experts were keen to reiterate that cash will continue to have a place in the remittance industry.
FinTech start-ups are becoming increasingly popular, but there are often many roadblocks:
Our panel of experts delved into the new wave of start-up remittance business we have been seeing entering the space over the last 5-10 years. They explained that many back-end aspects of a start-up are often the barrier to going live. For example, regulation, compliance, governance and risk are all proving to be stumbling blocks for young businesses. Although the regulators are there to keep the framework safe and secure, our experts told us that these regulatory priorities can often impede them from offering support or encouraging business growth. To overcome this, our panel explained that it is the duty of successful businesses to provide start-ups with the right guidance.
Peripheral services are evolving:
We heard some interesting examples from our panel on the increasing availability of value-add services within the remittance industry. For example, in Jamaica, the airtime space has grown significantly and is expected to continue evolving. Elsewhere, gift cards, pre-paid cards and services that are specifically curated for migrants are also becoming increasingly popular.
Partnerships are key:
In the panel, our experts delved into the topic of partnership and cooperation within the industry, with all panellists agreeing that nowadays the option to 'plugin and play' is beneficial for old and new players alike. They reinforced the opinion that listening to other key players in the ecosystem, learning from them, and adopting new technology and techniques is often the easiest path to success.
Does customer loyalty still hold as much importance?
An interesting discussion on the panel revolved around the importance of customer loyalty, especially when considering the sheer number of options available to the end user. It's clear that loyalty programs will continue to appeal to consumers as it's a feature that they understand and accept, but is it enough? Our experts explain that one key factor in maintaining customer loyalty is offering increased visibility with their transactions, resulting in a higher level of trust with the MTO. Another factor highlighted in the discussion is that customers will remain loyal if your business continues to solve problems. For example, during the Covid-19 pandemic in Zimbabwe, key players in South Africa began to offer a service whereby customers could send necessary commodities instead of money. A feature like this offers customers control and further solidifies their loyalty to a brand.
For more information or to request a free consultation with one of our money transfer specialists, please email marketing@remitone.com
What next?
Now that you've caught up on the panel discussion, we want to help you get the most out of it and plan for 2023.
Tap into our experts and schedule a free consultation.