VIDEO: Remittances from the Gulf: The Impact of COVID and Trends for 2021 December 4, 2020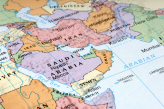 During IMTC World 2020, RemitONE CMO, Aamer Abedi, moderated an engaging panel discussion on Remittances from the Gulf – The Impact of COVID and trends for 2021. During the panel he asked industry experts from the UAE, Saudi Arabia and Pakistan; how the market has been impacted; has COVID accelerated a digital transformation; and what's the landscape for competition in your region.
Watch the full discussion here or read the highlights below:
How has your region been affected?
Osama Al Rahma, Advisor at Al Fardan Exchange and Vice Chairman of the Foreign Exchange & Remittance Group in UAE, commented that in the UAE there has been an unprecedented lockdown and control of the mobility of people has been restricted. He adds that it is unique that the workforce in the UAE is 90% ex-pats from over 200 nationalities and all are under the wage protection system. In terms of remittances, the service continued during the lockdown, the government recognised receiving countries are in severe need for the service and it's thanks to authorities that permission could continue.
Khalid Al Zain, Head of Business Development at Bank Albilad in Saudi Arabia, commented that the Saudi Arabian Government has been investing in the private sector to keep their staff employed. He adds, there have been measures from the regulators including social distancing. Khalid notices that there is an impact but it's not too much. Due to the support from government and measures took, such as social distance, hygiene and increased security. He adds that despite COVID the number of employees is increasing and the workforce is in a good shape in Saudi Arabia.
How has the market been impacted?
Faisal Rashid is Head of Financial Institutions, International Banking & Home Remittance Business at Bank Alfalah in Pakistan, he explains that as Pakistan is predominantly a receive country you would expect the country to be impacted significantly by COVID. However, he has found that from the GCC, where Pakistan receives its bulk of transactions, remittances have grown by 25%. He adds this is driven primarily from a 66% increase from Saudi Arabia and a 17% increase from the UAE. He believes this increase is due to the strength of partners in those regions moving from agent to digital channels. He also mentions that the receive side in Pakistan has struggled to convert to digital pay-out due to the lack of infrastructure and the digital ecosystem.
Osama explains that in the UAE there have been declines in remittances, Egypt by 8%, India by 17% and the Philippines by 24%. However, they have seen growth in Pakistan by 11.5%. He believes this increase is due to transactions going through unofficial channels are now moving to official channels. It could be argued that this is one of the positives coming out of the pandemic.
Khalid adds in Saudi Arabia they saw a decline in remittances during the initial phase of the pandemic, however, this has since changed and overall, they have witnessed growth in remittance by 8%. He also explains that customers are moving to digital channels rather than using traditional methods.
Has COVID accelerated a digital transformation?
Faisal comments that Pakistan is a young population who understands modern digital communication tools, however, only one-third of the total population is using smartphones causing a barrier to moving online. He adds that basic smartphones are now becoming available which is what Pakistan needs to create an ecosystem to make it easier to move money around. The graduation of moving to digital channels has started, all banks are working on their digital offering and we will see a large shift in the coming years with COVID hastening the transformation.
Osama agrees that COVID has accelerated the digital transformation of remittances in the UAE, but mentions that the Government of the UAE created a strategic initiative for digital transformation before COVID, which included strategy around infrastructure, policies, regulation and cybersecurity. This initiative includes the 'UAE Pass' which provides UAE citizens with full digital identity. These initiatives coupled with 80% of the population using smartphones, has provided the UAE with a seamless transition to moving online. Osama notices that the technology, infrastructure, cybersecurity are all available in the country, which enhances the customers experience on the digital level.
Khalid has found that the migration of the customers to digital is going excellently in Saudi Arabia and he notices a spike in migration of customers to digital. He explains that all citizens in Saudi Arabia are required to provide a fingerprint for their ID card and data has been stored in the mainframe. The private and government sectors can liberate from this data which has allowed Khalid and his team to introduce E-KYC seamlessly. Khalid notices that lots of customers are moving from traditional methods to digital.
What's the landscape for competition in your region?
Khaled comments that Saudi Arabia wants to be a cashless society by 2030. He adds there are lots of strategies and initiatives in place, organised by the Saudi Arabian regulators, to open the market and invite many players to come. He believes that by increasing competition in the market, services will improve and it's not just about one bank, there are lots of players in the market.
Similarly, Osama explains, in the UAE we have regulatory bodies such as Abu Dhabi Global Markets (ADGM) they have their regulations and initiatives for start-ups to support, facilitate and encourage fintech companies. The UAE also have Hub 71, which is a body to support start-ups, who have a payment lab to support innovation and testing. He adds, In Dubai, we have the Fintech Hive and the Dubai Economic Develop Department, where Pay Engage is the latest initiative. He explains that initiatives are being set up to allow for more innovation and similarly to Saudi Arabia, to move towards a cashless society. He concludes, there are strategies and clear milestones in place, with all stakeholders involved including federal and local government. There is a shift and it's happening very quickly which is encouraging many companies to move their businesses to the UAE because they can benefit from the infrastructure.
Conclusion – COVID19: An agent of change
The pervasive atmosphere amongst the sector appears to be one of defiant optimism in the face of some pretty sobering stats. The vast majority of the challenges posed by the pandemic, however, are either short-term by nature or have, in some of the cases outlined above, already been overcome.
Remittance will always represent a lifeline for developing countries and as technology adoption continues to penetrate every part of the globe, digital transformation is something that can't be ignored any longer. Nobody is going to remember coronavirus as a 'good thing' but it could at least be recognised as an agent of change and change is often necessary, even if it feels a little intimidating at the time.
For more information or to speak to one of our experts please email marketing@remitone.com