The remittance market remains buoyant and mobile is on the increase June 26, 2019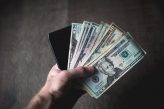 The money transfer industry is going to witness key shifts in the next year, including a huge growth of mobile. Our own research demonstrates this trend and some other interesting developments. Read on to find out more!
We are all fortunate to be working in this vibrant remittance industry. Our research shows that it continues to adapt to consumer demand and the latest technologies. But it's not without its challenges. Earlier this year we conducted two pieces of research. The first, in collaboration with our partner ClearSettle, sought opinions across UK & European Money Service Businesses (MSBs) about what trends they foresaw for the 2-3 year horizon. The second, of our global client base, demonstrated some clear technology trends.
From both pieces of research, the highlights were as follows:
Expected rise in MSBs setting up in the UK
A number of challenger banks & FXcos providing accounts to smaller fintechs
Likely record uptake of MTOs adopting digital remittances (especially mobile)
More fintechs attempting to scale up, backed by private equity
Continued convergence between remittances and payments
Increased interest in Regtech
Virtual money on the rise but Cryptocurrency somewhat plateaued
These opinions come from data captured from our daily interactions with clients, prospects and partners.
Taking them in turn:
Trend #1 – Expected rise in MSBs setting up in the UK
We expect there to be a rise in the number of new Money Service Business (MSB) setups in the UK. Many of these we expect to be subsidiaries of established Money Transfer Operators (MTOs) and banks from the Gulf region and from Africa.
These MTOs and banks can use their MSB subsidiaries in the UK to establish a position in the lucrative UK remittances market and to begin to build a brand for their wider services. Despite Brexit (or maybe because of it) we see a strong desire to establish a presence in UK markets.
We also expect to see a number of foreign MTOs coming to the UK to setup correspondent banking relationships here. The idea is to setup these relationships and get payment institution licenses which moves them further into markets in the west.
Trend #2 – A number of challenger banks & FXcos providing accounts to smaller fintechs
There's evidence that a number of challenger banks and Foreign Exchange (FX) companies are providing bank account solutions to remittance players. This covers some of the shortfall in bank accounts that came after the financial crisis a decade ago and the subsequent de-risking that took place. This trend is good news for the industry as a whole. In our survey, bank de-risking came out by far as the number one challenge facing the industry, polling 39%.
The result of a rebalancing of the number of bank accounts being available will particularly suit the smaller remittance providers and is likely to result in a rise in remittance volumes from smaller fintech players over the next year. In our experience, the smaller players are often nimbler than established firms and are usually innovative. Therefore, we are likely to see some creative offerings in the remittance market!
Trend #3 – Likely record uptake of MTOs adopting digital remittances (especially mobile)
Many of the 'traditional' MTOs are just beginning to delve into digital remittances. They may be a bit behind the curve, but it seems they intend to catch up. In our survey, some 54% of providers reported use of mobile channels in the previous three months. This compares with some 82% who had used online and 42% who had used in store. Even a figure of 54% shows a significant potential use of mobile yet to be exploited.
When asked what will impact the money transfer industry in the next 2-3 years, mobile technologies came out on top with 69% of respondents agreeing with this viewpoint. Every traditional MTO we speak to is looking to add a mobile channel to their business model.
Extrapolating the numbers from the survey and the anecdotal evidence from our market interactions, we think this demonstrates that 2019 will witness a record number of traditional MTOs in the UK launching mobile channels.
Trend #4 – Rise of investment in the Fintech space
Investment in the UK fintech space saw records smashed in 2018. This year should see similar buoyant investment, but we'll see much more private equity investment as opposed to venture capital investment.
This should drive more and more fintechs attempting to scale up this year. Again, this is a reflection of the strength of the market.
Trend #5 – Continued convergence between remittances and payments
We see continued evidence of the convergence between remittances and the payments industry. The payments market potentially has a lot to offer both providers and consumers in the money transfer market – with quicker, more transparent and compliant transactions that could lead to lower charges.
Tapping into the payments market provides the money transfer industry with more ways of getting funds from A to B. It also provides an opportunity to by-pass the middle layer of financial settlement.
Most importantly, it has the potential to put more money into the hands of the beneficiaries in poorer countries. The World Bank agrees that this would be a good thing.
Trend #6 – Increased interest in Regtech
Our research shows that providers still have a poor perception of the regulators and banks. Only 17% said they were easy to deal with (no one said very easy), with 21% saying they were very difficult and 56% saying they were either difficult or very difficult. That said, there is some optimism that banks and regulators are beginning to understand emerging technologies and the positive role they could play.
In particular, the new buzzword for 2019 is Regtech. Regtech has the potential for the banks and regulators to take some of the strain of compliance away from the MTOs. Anecdotally, we know that our own Regtech solution is catching the attention of a number of central banks. We hope we can play a role in helping the relationships between our core market (MTOs) and the regulators. There's still some way to go though!
Trend #7 – Virtual money on the rise but Cryptocurrency somewhat plateaued
Only 27% or respondents felt that virtual money was unlikely to have an impact on the money transfer market this year. On the other hand, there is evidence that cryptocurrencies have plateaued for now. The data doesn't demonstrate any significant increase in partnerships between MTOs and cryptocurrency exchanges. This is likely to be a temporary halt.
With 42% of respondents sighting blockchain as likely to have an impact (2nd only behind mobile), this is likely to pull through demand for cryptocurrency in the near future as blockchain matures. The two are well suited to each other.
Further thoughts:
Companies providing end to end solutions in this space will be the long-term winners as they will bring together a range of players in the equation.
The role of payout aggregators is also a space to watch as they consolidate their networks and forge partnerships with technology vendors.
Fintechs require fintech consulting firms and 2019 will witness the first batch of fintech consulting firms appear, spawning a new parallel industry supporting the remittance and payments industries. This again is a good sign for MTOs and banks.
For more information on the RemitONE Rapids research, please click here