Questions-réponses avec l'expert de l'industrie: Selim Mohamdi March 17, 2022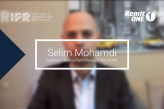 Regardez la dernière vidéo de questions-réponses, mettant en vedette Selim Mohamdi, Business Development Manager, RemitONE.
Dans notre entretien, Selim explore la relation entre l'adoption des paiements mobiles et ce que cela signifie pour les transferts en espèces, ainsi que le rôle de la crypto-monnaie et de la blockchain dans le processus de transfert de fonds.
What next?
Now that you've read our article we want to help you get the most out of it and plan for 2022.
Tap into our experts and schedule a free consultation.