Meet Yinka Elemo February 10, 2022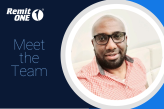 Company Role
Service Delivery Manager
Favourite Quote
"When evolving, you must get comfortable with being uncomfortable. Know that discomfort is a sign of growth."
Top 3 Podcasts/Books?
Making Great Decisions for a Life Without Limits – T.D Jakes
The Spirit of Leadership – Dr Myles Munroe
Your Road Map for Success – John C. Maxwell
What is something people in your industry have to deal with that you want to fix?
There is an upsurge of regulation and compliance obligation in the remittance industry. We strive to provide a platform for remittance businesses that powers digital transformation which enables them to meet those regulatory obligations.
What do you do at RemitONE?
My role involves overseeing a number of key functions within the RemitONE IT support department which drives the delivery of high-quality service to Money Service Businesses (MSB), MTOs, Telcos, Banks and other financial institutions in the FinTech space globally. I ensure support and service delivery processes are in place to meet business demands and service expectations.
What are your credentials/experience for working in your position?
I started my career in business management and later moved to IT consultancy/service management which exposed me to different technologies and ways of using technology to power business goals. I studied my first and second degrees in Business Information Technology and Business Computing respectively.
What do you like about working at RemitONE?
I enjoy the challenge the role brings my way as every day is different. I like the fact that I'm able to contribute my quota to the overall objective and goals of the business through collaboration with clients, colleagues and other relevant stakeholders.
What are the values that drive you?
The values that drive me are transparency, justice and equity. I operate the principle of fairness in my dealings with people and expect to be treated the same way.
What's your background and what do you enjoy doing when you're not working?
I'm currently based in London where I live with my family. I engage in several youth empowerment initiatives and volunteer with some charities helping children in need during my spare time. I also enjoy travelling to the countryside to explore nature and playing golf.