Meet Tim Morgan January 20, 2022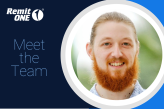 Company Role
Application Support Engineer
Favourite Quote
"Everything you've ever wanted is on the other side of fear"
Top 3 Podcasts/Books?
An Investigation of the Laws of Thought – George Boole
The Drunkard's Walk – Leonard Mlodinow
The Ricky Gervais Show – Podcast
What is something people in your industry have to deal with that you want to fix?
The money transfer industry often seems simple on the surface, yet a rather complex behemoth lurks under the hood. I think that RemitONE's approach to breaking down and simplifying the pressing issues in the field is compelling – I'm excited to contribute to this goal to make life easier for our clients and colleagues across the space.
What do you do at RemitONE?
I work on the customer service desk primarily at the third level, where I troubleshoot software-related issues and develop solutions both for customers and internally. Efficient and effective software practice is important for companies to stay on top of, and I like to think I am contributing to that as I gain familiarity with each area of our systems.
What are your credentials/experience for working in your position?
I hold a computer science degree and have varied work experience in terms of customer service, having previously worked in both hospitality and retail. I also have experience in software development and I enjoy the challenge of improvement through innovative and novel approaches.
What do you like about working at RemitONE?
RemitONE offers a highly flexible approach to the role and there is an opportunity to get involved in any area of interest within the organisation. You can talk to anyone here, the team is always at arms reach and willing to help. The varied nature of the role was another attraction for me.
What are the values that drive you?
I'm driven by a joyous and social attitude to the day and embracing opportunities to adapt and learn. At work, I always try to envisage ways to make life easier for my colleagues by affecting positive change.
What's your background and what do you enjoy doing when you're not working?
I'm based in Norfolk where I live with my beautiful wife and my mother. I spent the last 5 years living between Kerala and Kuala Lumpur. I love to keep fit and get outdoors, I am a passionate rock climber but relaxation and enjoyment of spare time are also very important to me. I also like to keep in touch with old friends and attend the local folk music evenings, pandemic permitting!