Meet the Summer Interns August 16, 2021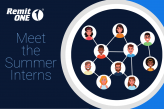 RemitONE is thrilled to welcome our four interns joining the Sales, Marketing and Technical teams this summer!
Saffiyah, Zayn, Ibraheem and Yusuf are the latest interns to join RemitONE and are already proving to be a great addition to the team.
We caught up with them after their first month of the internship to hear more about their background, their future goals and how RemitONE is helping them along the way!
Tell us a little bit about you! Where do you come from and what are you studying?
Saffiyah: I live in South-East England, where I've recently finished studying my A levels. I plan on going to university in London later this year to study a finance-related course.
Yusuf: I finished Year 13 this year and hope to study civil engineering at university starting in September.
Zayn: Hi! I'm Zayn and I'm from Buckinghamshire. I'm a mechanical engineering student at Brunel University. I love MMA, gaming and learning new paths in life. I also enjoy anime!
Ibraheem: I'm 18 years old, was born in London but now live in High Wycombe. I was home-schooled most of my life but finished my A-Levels last year at the Royal Grammar School in Wycombe. I studied Maths, Computer Science and Economics and will be studying Computer Science at the University of Birmingham Insha'Allah.
What are you hoping to gain from your internship with RemitONE?
Saffiyah: I'm very interested in the finance world, so I hope to understand what goes on behind the scenes of a fintech company like RemitONE. I've learnt a lot already – working with the marketing team has been a great experience and I have an insight into the important role marketing plays in the company.
Yusuf: Work experience for the real world, such as how to professionally communicate with clients and colleagues and fundamentals of working in a business environment.
Zayn: I want to renew my knowledge of data analysis by implementing my skills again, and I'd love to learn more about effective ways to attract new prospects to the business. Additionally, working in a professional environment is an experience I appreciate and expect to help me gain confidence to pursue an exciting range of expertise.
Ibraheem: I'm really interested in gaining real-world experience of working professionally. I want to learn how all the team members work together and familiarise myself with all the tools used in this field.
What's the best part of working at RemitONE?
Saffiyah: The best part for me is that everyone is very friendly, so it has been easy to talk to and learn from the people I'm working with.
Yusuf: The team ensure all the work is manageable even though we're trying out lots of new things.
Zayn: The best part is that the people around me are very approachable and friendly – at RemitONE the people are extremely down to earth and, relatable. I firmly believe that because my seniors have these attributes, they set an example to many other enterprises on how to conduct communication between workers.
Ibraheem: I like how the company is small, so everyone works together and communicates when there are challenges; I don't feel shy about asking someone else in the team for help or advice.
How are you liking the working environment?
Saffiyah: I'm really enjoying it. I'm working from home, which is probably a bit more relaxed than working in an office, but I get a lot done. The team I work with is great and they've made this a very meaningful experience.
Yusuf: The environment at RemitONE is very welcoming. Im also enjoying learning and working remotely.
Zayn: The work environment is comfortable. Everyone is very helpful and happy to take time out of their schedules to assist me and anyone else who has any questions or wants to run through any difficult tasks.
Ibraheem: The remote working environment is something I'm enjoying.
What's the most helpful skill you've learnt so far?
Saffiyah: I've learnt the importance of connecting with clients. Many of my tasks are based on forming and keeping connections with clients via social media or email. I also helped with the IPR Panel events, which I found really interesting as in the process I got to listen to what the speakers had to say and appreciate the work that was put into making the event happen.
Yusuf: So far I've learnt the importance of professionally addressing clients, as well as how to write professional sales emails for lead generation.
Zayn: I love data analysis, and working at RemitONE has enhanced this skill a lot to the extent that I could make my tasks a lot easier by using functional skills in spreadsheets.
Ibraheem: The most important skill I've learnt is definitely communication.
Tell us a fun fact about you!
Saffiyah: I love travelling. I haven't been able to travel during the pandemic, but when things get better I really want to explore new places and revisit some old ones.
Yusuf: Interestingly, I have hyperextension in my elbows and shoulders!
Zayn: I can solve the Rubik's cube in 8 seconds! As random as it sounds, I used to speed-solve competitively around the UK. After that, I moved on to competitive e-sports (video games) in LAN tournaments in central London. I love competition and being in the same room as people with the same interest – it's always fun to spark conversation with them.
Ibraheem: I was an assistant writer/cinematographer for a series of Islamic short films that have over 2 million views collectively on Youtube!
And finally, what advice do you have for future RemitONE interns?
Saffiyah: It's a great experience with pleasant, hard-working people so there's no need to feel nervous. Make sure you manage your time well.
Yusuf: Don't let work pile up; try to manage your time well.
Zayn: Keep a positive mindset when you work and enjoy it! Take your time with work if need be, as long as you get it done.
Ibraheem: I think it's very important for future interns to recognise the importance of good teamwork and communication when tackling tasks and participating in activities.