Meet Nitheesh Chacko: Software Superstar February 15, 2021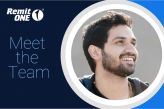 Name
Nitheesh Chacko
Company Role
Head of R&D for the Middle East
Favourite Quote
"Dream is not that which you see while sleeping, it is something that does not let you sleep."
And
"Thoughts result in action." ― Abdul Kalam A. P. J
Top Podcasts/Books
Wings of Fire – A. P. J. Abdul Kalam
What is something people in your industry have to deal with that you want to fix?
We support the money transfer industry by providing information on the technology and services offered by RemitONE, in order to convert the customers to our digital platform.
What do you do at RemitONE?
My main role is to understand the requirements of the Middle East market. It helps the technical team to apply those changes to the core system.
What are your credentials and experience for working in your position?
Before joining RemitONE, I worked with a technology company in Dubai and I now have 10+ years' experience working as a Software Developer/Tech Lead.
What do you like about working at RemitONE?
I love the variety, the culture, and the challenges. I enjoy working on multiple projects and the challenge of meeting our objectives and deadlines.
What are the values that drive you?
Reliability, Loyalty, Commitment, Honesty, Efficiency, and Innovation.
What's your background and what do you enjoy doing when you are not working?
I grew up in Kerala in India, I then moved to Dubai to start my career in Software Development.
When I am not working, I spend time with my family and my 2-year-old.
I also enjoy watching movies & travelling. I have been lucky to visit some parts of the Middle East & Africa regions, and I'm planning to visit Europe next.