Meet Marco Dal Monte: Software Specialist July 16, 2021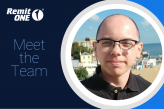 Company Role
Software Engineer
Favourite Quote
"Let's go with the flow, wherever it goes."
Top Podcasts/Books
Eagle in the Sky – Wilbur Smith
Monsoon – Wilbur Smith
I Promessi Sposi – Alessandro Manzoni
What is something people in your industry have to deal with that you want to fix?
In our fintech branch, the main service is to provide a web and mobile platform people can use to send money quickly to their families and friends, without the fear of losing their savings.
As for all software, there is the chance to improve it, adding functionalities to the code, bug fixes on issues that might happen, and helping people to achieve what they need more quickly.
What do you do at RemitONE?
I work in the R&D Team of RemitONE as Software Engineer, and my role is to develop new functionalities or fix existing bugs.
What are your credentials and experience for working in your position?
After my graduation in IT in Padova, Italy, I have had a few job experiences in Italy, working as a web developer.
In 2013 I moved to the UK and worked as a software developer in the asbestos field for two companies.
My background is primarily with web and mobile, but different company types allowed me to learn things out of the IT field.
What do you like about working at RemitONE?
I like to work with my colleagues, who are all nice and friendly people. I also like the fact that we share our knowledge, helping each other resolve issues and achieve our goals.
What are the values that drive you?
I like learning new things, both in IT and out of work, and I never pull back if there is a chance to improve.
It is important for me to be in a team where we help each other, at least when possible. I like reciprocal respect and good education.
What's your background and what do you enjoy doing when you are not working?
I come from a Math and IT background, with a sparkle of accountancy at High School.
When I am not working, I like to play my guitar; I go to weekly lessons.
Other hobbies are reading books, keeping fit at the gym, going out with friends, and watching football – I am a fan of Juventus.