Meet Ababacar Seck: Industry Expert March 8, 2021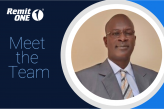 Company Role
Managing Director Africa
Favourite Quote
"If you want to go fast, go alone. If you want to go far, go together" – African proverb
"If you think you are too small to make a difference, spend a night with a mosquito" – African proverb
Top Podcasts/Books
"Amkoullel, l'enfant Peul" by Amadou Hampathe Ba.
The Collected Poetry by Leopold Sedar Senghor
What is something people in your industry have to deal with that you want to fix?
One of the current biggest challenges we have in Africa is the inoperability of mobile money platforms. The growth of mobile money in Africa has been tremendous, with no such experience elsewhere, but still the potential is held back because of this issue and the lack of important actors in the ecosystems.
What do you do at RemitONE?
I am the managing director for the African market in the company. This consists of recruiting clients such as Banks, Central Banks, Money Transfer Operators and Telcos who want to use our different solutions. We cover the whole continent and make sure our clients are happy and growing with our products and support.
What are your credentials and experience for working in your position?
Before joining RemitONE, I worked for several companies in the African private sector. I've been working in the remittance business for many years. I was the CFO and afterwards the CEO of Money Express SA, a leading African player, for several years. I also was the CEO of Connect Africa Payments, and Rainbow Ltd.
What do you like about working at RemitONE?
I love the team spirit, the variety of culture and the ambition of the company. I also like the challenge for Africa and the opportunity we have to become a great sought after stakeholder of the African remittance ecosystem.
What are the values that drive you?
Things I value most are honesty, humility, empathy and accountability. They help me improve in my day to day life and work as a person and a professional
What's your background and what do you enjoy doing when you are not working?
I studied Finance (MBA) and Business Management (Master) and have been working in these fields the last 30 years at senior positions. I did all my studies in Senegal (University of Dakar and CESAG), and ended them in the USA (Boston University).
Aside of my professional work, I've been volunteering since college in development programs like environment, community development, youth empowerment, health, microfinance for the poor, etc.

I enjoy going for camping and discovering rural areas. I am also passionate about sports and I still play basket-ball despite my sore ankles!