Introducing RemitONE Loyalty Points May 30, 2023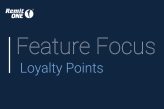 Loyalty points play a pivotal role in building long-lasting customer relationships. Rewarding them with points serves as a powerful motivator for them to consistently engage in transactions with your brand.
In this short video, our Associate Sales Director, Oussama Kseibati, discusses the benefits of loyalty points, how they work on the RemitONE system, and the best ways to take advantage of them.
What next?
If you're looking for new money transfer technology, or you're currently using the RemitONE Money Transfer Engine, get in touch with our Payments Experts to see how Loyalty Points can benefit your business.
Schedule a free consultation with our experts: