Get your money service business on The Launchpad™ March 1, 2018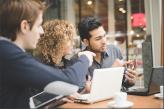 Remittance is a global enabler of financial inclusion and economic upliftment. Remittance is also one of the world's biggest and untapped industries.
Regulation, compliance, de-risking, merchant accounts, digital payments, AML, CFT and KYC are terms everyone is familiar with. Today, technology is bringing all these terms together in the most sophisticated way possible under the umbrella of remittances.
New laws now require Money Service Businesses (MSBs) to use proven compliant technology systems and also stipulate that these MSBs work only with trusted partners.
Are you looking to launch your Money Service Business? Are you looking to work with key players in the remittance industry? Do you need information on all the key components needed to get you started in the remittance industry?
If you answered 'Yes' to the above questions, then look no further! RemitONE is excited to reveal our new service called RemitONE Launchpad™ which is uniquely designed to provide valuable information and key contacts to help you successfully launch your Money Service Business.
Key components of RemitONE Launchpad™ include:
Fast and reliable route to start your money service business
Get key information and contacts in one place, saving you time & money
Instantly access the global money transfer market
Receive discounted rates from all our partners
Contact us on +44(0)20 8099 5795 or send an email to sales@remitone.com for more information.
Useful links
Submit an enquiry here