We're Attending Seamless Asia | 27-28 June 2023 May 22, 2023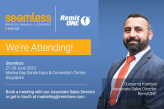 We're thrilled to share that our Associate Sales Director, Oussama Kseibati, will be attending the upcoming Seamless conference in Singapore and would love to connect with you there.
If you're planning to attend the conference, we'd be delighted to meet with you and explore how RemitONE can assist you in fulfilling your business requirements.
Schedule a meeting with the RemitONE team by emailing sales@remitone.com
We're excited to meet you face-to-face and discover the potential of a successful collaboration!