RemitONE presents Innovation in Payments and Remittances (IPR) Global 2022 June 29, 2022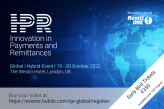 RemitONE is pleased again to bring to our great industry the Innovation in Payments and Remittances (IPR) Global event at The Westin Hotel, London, UK, from Wednesday 19 to Thursday 20 October 2022.
IPR Global is the ultimate hybrid event for those passionate about transforming the money transfer industry. The event brings together global industry stakeholders, visionaries and business leaders to make informed decisions and drive positive change in the industry.
This year's topics include; new industry trends, the evolving payments ecosystem, the role of policy in reshaping e-KYC/AML/Compliance, how super apps and digital wallets are changing consumer behaviour, the industrial impact of blockchain and crypto, how digital currencies on mobile money infrastructure is changing financial inclusion and more.
The event features prominent industry speakers, including Leon Issacs, CEO at DMA Global; Hugo Cuevas-Mohr, Director at Mohr World; Aamer Abedi, CMO at RemitONE and many others from the money transfer supply chain. In addition, there is representation from small and big players in our industry, so there are plenty of experiences to share and learn from!
The 120 in-person and 600 virtual attendees will gain unlimited access to six expert panel sessions, training courses, multiple networking breaks, an evening boat cruise, and the networking event platform.
Early Bird Tickets are available until 31 August at £350 a ticket and can be purchased online –  https://events.hubilo.com/ipr-global/register 
About Innovation in Payments and Remittances (IPR)
In 2018, RemitONE launched Innovation in Payments and Remittances (IPR) to bring together various industry supply chain members to drive positive change. Through events and research reports, IPR brings together senior business leaders dedicated to enhancing the industry, enabling them to think big, share best practices, engage, learn, discover, create opportunities and shape change. With the power of collective insight, we can push the boundaries of both innovation and industry growth and benefit from better outcomes. The first IPR event was held in the iconic London landmark, The Shard. In 2021, due to the pandemic, the event was hosted online and attracted over 3,000 registrations worldwide. The IPR events are organised throughout the year to help industry stakeholders, visionaries and business leaders make informed decisions that ultimately benefit the consumer.
About RemitONE
RemitONE is the leading provider of end-to-end money transfer solutions for banks, money transfer operators (MTOs) and fintech start-ups worldwide. Our award-winning money transfer and compliance software products, along with our consulting services – including MSB licensing, bank account provisioning and connections to our clients and partners – are tailored for the global money transfer market. Organisations of all sizes use our platforms to run their remittance operations with ease and efficiency by reaching out to their customers via multiple channels, including agent, online and mobile. For more information contact marketing@remitone.com